Port-La Nouvelle is France's 3rd largest port on the Mediterranean. It is a multipurpose port which operates petroleum products, liquid bulk, cereals, agri-products, dry bulk and breakbulk commodities.
Owned by the Regional Council of OCCITANIE, the port currently handles 2 million tons a year. Known for its reliability and wishing to upgrade its infrastructure, Port-la-Nouvelle is committed to the construction of a brand new deep-sea port able to accommodate ships up to 60 to 80,000 deadweight tonnes, on 14.50 m draft (dredging at -16 m).
The passage time of vessels from roads to quay is less than 1 hour. The A9 motorway is located at 10 minutes from the port and all future terminals will be connected by rail.
The future port will include new terminals to operate liquid bulk and dry bulk as well as a construction site for the emerging floating widmill industry.
The target of the future port is to develop existing traffic and to welcome new projects. Today serving only the Mediterranean RIm, Northern Europe and the West Coast of Africa, the future port will link Port-La Nouvelle to more international markets.
The construction will be staggered in several phases. The first step corresponds to the plan below. This is a partial stage proposing a new outer harbour and initial facilities to operate ocean-going vessels either in liquid bulk or dry bulk.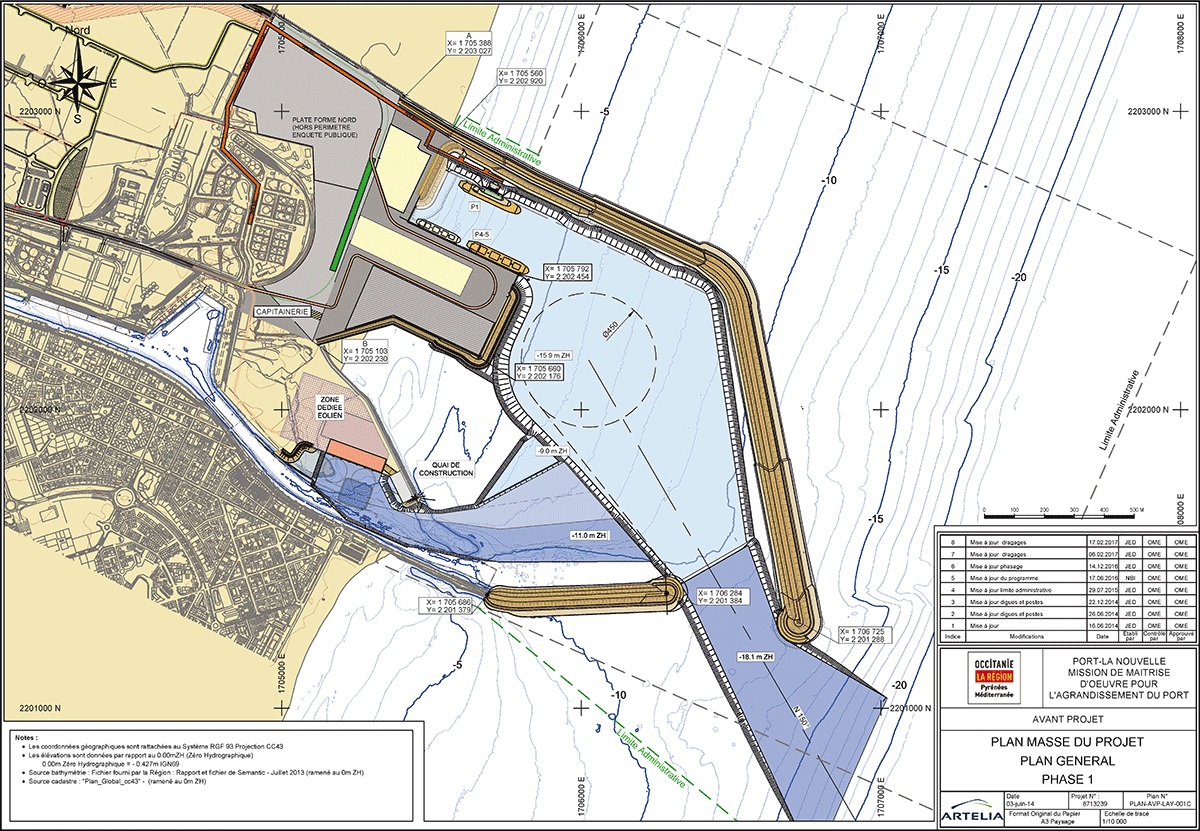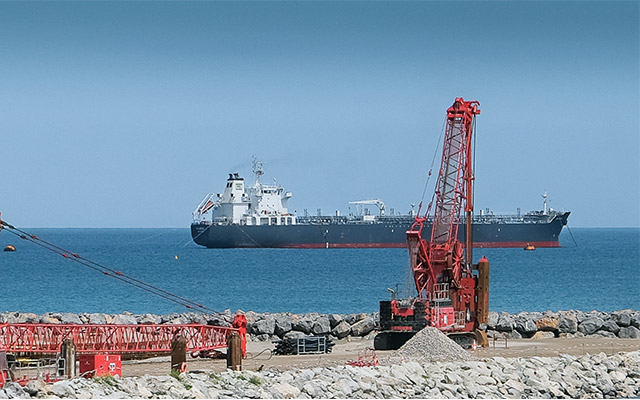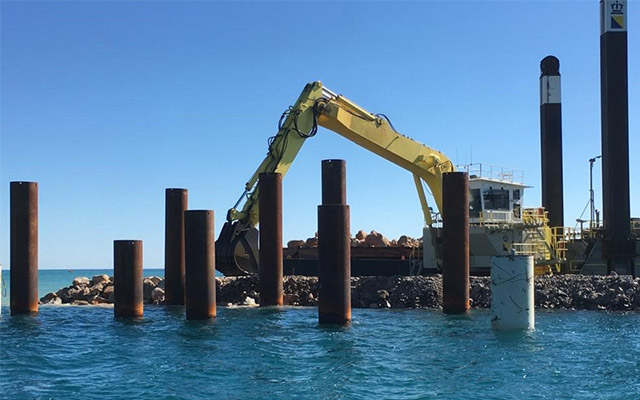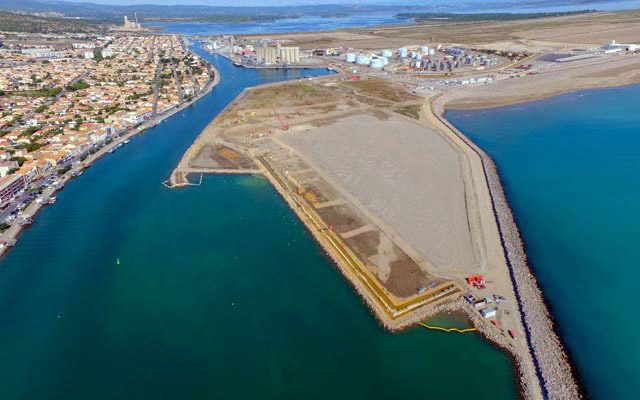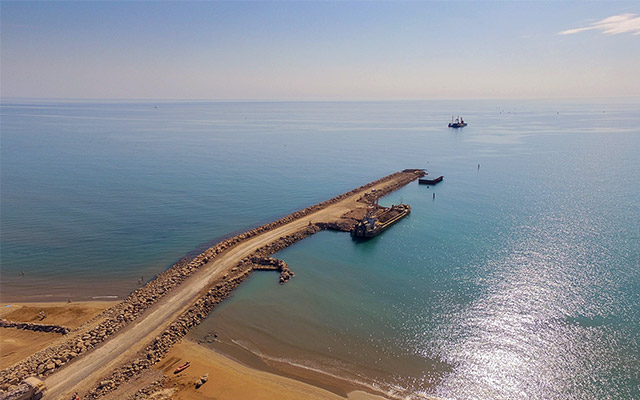 Other development steps will follow thereafter. The following modeling presents an option for final configuration of the future port. In this configuration, the port will include :
– 1 liquid bulk terminal (25 ha min) + 4 berths for tankers.
– 1st dry bulk & breakbulk terminal (13 ha).
– 2nd dry bulk & breakbulk terminal (35 ha).
– 2,000 m of new quays.
– 1 x heavy lift terminal (15 t/m2) and a construction site for floating windmills.
– 2 x roro ramps.
– 1 industrial area (60 ha).
– 1 Rail Port terminal.
Meanwhile, the port management will be transferred to private investors. By the end of 2020, the Regional Council will nominate its future partners. The private investors will ensure the daily management, the construction of the terminals and the strategic orientation. The contract will start mid-2021 and will last for 40 years, through a unique public-private partnership.
With a deep-sea infrastructure, brand new terminal facilities, excellent rail distribution capacity to Europe and the private management, the future port of Port-La Nouvelle intends to develop excellent practice while developing the port activities and the regional blue economy. Also, the future organisation will focus on ecological transition, with its commitment to develop a modern and environmentally-friendly infrastructure.
Shippers and industrial accounts ready to propose projects are invited to contact our Commercial Department.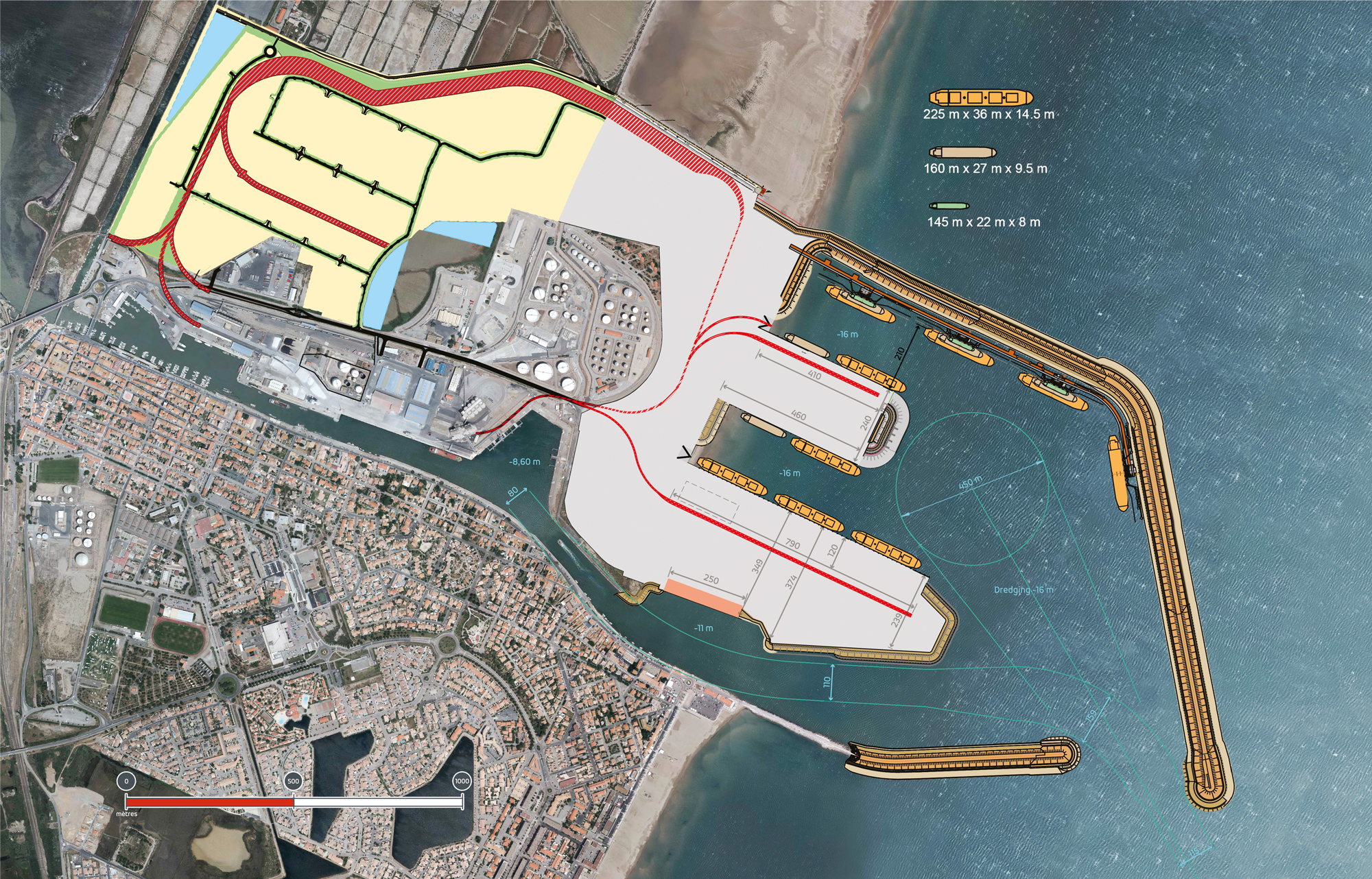 Commercial Management
+33 (0) 4 68 48 94 84
commercial@pln-port.com

Operation Management
+33 (0) 4 68 48 01 56
pln.operation@pln-port.com

Security and Safety
+33 (0) 4 68 48 94 81
pln.surete@pln-port.com
Industrials sectors & terminals