Realising Opportunity
A Port of Trust
Contact
LES SILOS DU SUD
Zone Portuaire
876 Avenue Adolphe TURREL
F – 11210 PORT-LA-NOUVELLE

+33 (4) 68 48 06 56
Presentation
Between 150 and 500,000 tonnes of cereals are exported from Port-La Nouvelle each year, including durum wheat, soft wheat and barley. The main destinations are the Mediterranean Rim such as Italy, Algeria, Tunisia, Greece and Cyprus. LES SILOS DU SUD (AXEREAL group) also intervene on other categories of agricultural bulk (peas for example).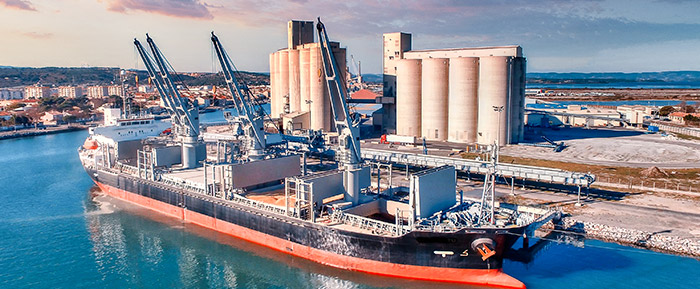 E The site (72,000 m2) consists of 3 silos with a total capacity of 75,600 tonnes (Silo 1 = 32,500 t – Silo 2 = 20,000 t – Silo 3 = 23,100 t), 4 pits for the truck receptions (150 to 400 t/hour), 3 discharging stations for trains (300 to 600 t/hour), one truck loading station, 3 weighbridges and a laboratory for analysis. The SILOS DU SUD benefits from a HACCP-GT Food Safety Charter.
E The port facilities consist of 2 berths equipped with gantries up to 1000 t / hour loading capacity. These berths are accessible to vessels up to 145 m long x 22 m beam x 8 m summer draft.