Realising Opportunity
A Port of Trust
Contact
LES SILOS DU SUD
Zone Portuaire
876 Avenue Adolphe TURREL
F – 11210 PORT-LA-NOUVELLE

+33 (4) 68 48 06 56
Presentation
Between 300 and 500,000 tonnes of cereals are exported through Port-La Nouvelle each year, including durum wheat, soft wheat and barley. The main destinations concern the Mediterranean markets: Italy, Algeria, Tunisia, Greece, Cyprus, etc. The storage premises under control of the Silos can also be used for various agricultural bulk commodities.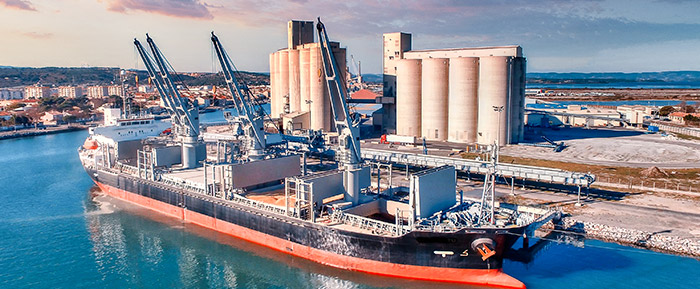 A
2 berths.
A
2 loading gantries (capacity up to 1000 t / hour).
A
3 silos for a total storage capacity of 75,600 tonnes.
A
Silo 1 = 32,500 t – Silo 2 = 20,000 t – Silo 3 = 23,100 t.
A
4 unloading stations for trucks (150 à 400 t/hour).
A
3 unloading stations for rail-cars (300 à 600 t/hour).
A
4 loading stations for trucks (deliveries).
A
3 weighbridges for trucks.
A
Automatic weighing when loading ships.
A
Analysis laboratory.
A
145 m length x 22 m beam x 8 m draft
A
Cereals (mainly durum wheat, soft wheat, barley…)
A
Oilseed in bulk (sunflower seed, rapeseed…)
A
Agri-food in bulk (peas, oilcakes…)
A
HACCP-GTP Food Safety Charter.
A
Bonded warehouses.
A
FRANCEAGRIMER port transfer warehouses
A
Ship loading operations: 06h00/19h00
A
Ship discharging operations: 07h00/12h00 – 14h00/19h00
A
Reception (trucks or rail-cars): 8h00/12h00 – 14h00/18h00